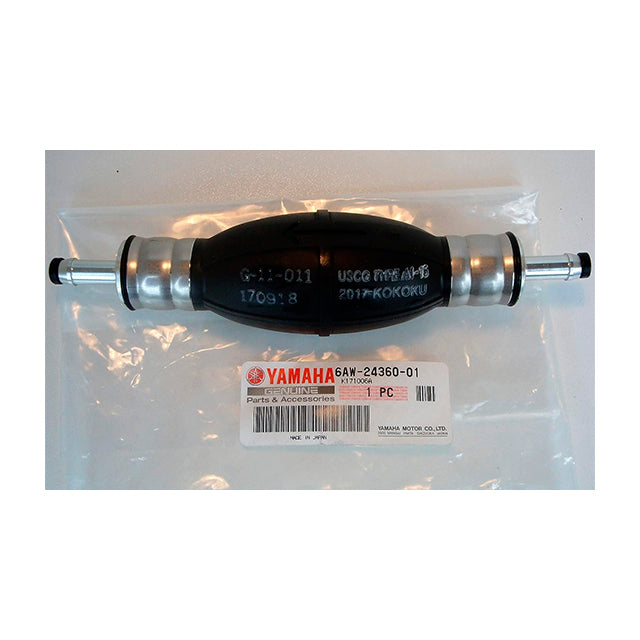 Yamaha 6AW-24360-01-00 Primer Pump Assembly; 6AW243600100 Made by Yamaha
Original price
$53.13
-
Original price
$53.13
The Yamaha 6AW-24360-01-00 Primer Pump Assembly (part number 6AW243600100) is a genuine OEM component manufactured by Yamaha. This primer pump assembly is designed for use in certain Yamaha outboard motors and serves a critical function in the engine's fuel delivery system.
The primer pump is used to manually pump fuel from the fuel tank into the carburetor or fuel injectors, helping to facilitate engine starting after periods of storage or when the engine has run out of fuel. It plays an essential role in ensuring proper fuel flow and aiding in the engine's initial start-up.
As an OEM product made by Yamaha, the 6AW-24360-01-00 Primer Pump Assembly guarantees compatibility and precise fitment with your Yamaha outboard motor. It meets Yamaha's high standards for quality and durability, making it a reliable replacement part for maintaining the performance and reliability of your engine.
If your current primer pump assembly is damaged, worn out, or malfunctioning, replacing it with this genuine Yamaha part will help ensure smooth engine starting and efficient fuel delivery. Regularly inspecting and replacing worn or damaged components with OEM parts like the Yamaha 6AW-24360-01-00 Primer Pump Assembly is essential for keeping your Yamaha outboard motor in optimal working condition.