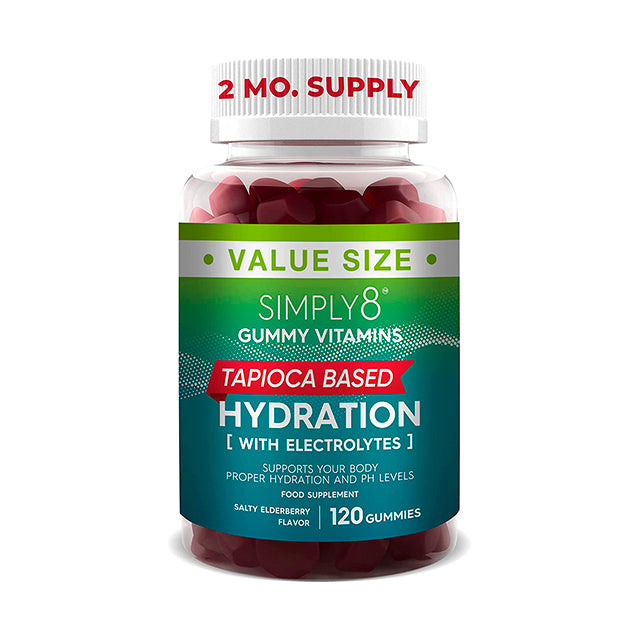 Simply8 Electrolytes Hydration Gummies – 2 Mo.Supply- Support Rehydration with Sodium Calcium Potassium Zinc & Chloride – for Workout, Hiking,Cycling - Tapioca Based,Gelatin Free,Kosher, Halal Gummies
Sold out
Original price
$28.47
-
Original price
$28.47
Simply8 electrolyte gummies support rehydration, recovery, and the replenishment of five key electrolytes your body loses when you sweat. Each chew includes sodium, calcium, potassium, zinc, and chloride.

Still using the electrolytes powder packets to recover from your workout? Try a tastier alternative! It helps to improve your stamina by replacing the electrolytes that play an important role in reducing muscle cramps, fatigue, and dehydration. Promote accelerated muscle recovery with two tasty salty elderberry flavor gummies per day.

Whether you enjoy running, cycling, hiking, or other fitness activities, our chews will help you easily and conveniently supplement electrolytes lost during moderate to heavy workouts.

Simply8 is focused on your overall health and wellness. The hydration support of our electrolyte chews will assist you in achieving your healthy lifestyle goals including performance, endurance, and recovery.

The natural Simply8 formula is tapioca-based, vegan, and cruelty-free. Made with only natural colors. Kosher and Halal. These high quality pectin gummies are third-party tested.