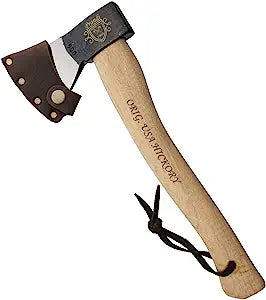 Prandi German Style Hatchet - PRA0306TH
Original price
$49.00
-
Original price
$49.00
The Prandi German Style Hatchet (PRA0306TH) is a premium tool that combines traditional craftsmanship with modern functionality. This hatchet is designed to deliver exceptional performance and reliability for a variety of outdoor and woodworking tasks.
Crafted with precision and attention to detail, the Prandi German Style Hatchet features a high-quality carbon steel blade. The blade is specifically designed for cutting, chopping, and shaping wood with ease. Its sharp edge and durable construction ensure efficient and precise cuts, making it ideal for both small and medium-sized tasks.
The hatchet's German-style design incorporates a well-balanced head and a sturdy handle. The head weight and shape provide optimal power and control, allowing for efficient and accurate swings. The handle, made from [insert material], offers a comfortable grip, reducing hand fatigue and providing excellent control during use.
With its compact size and lightweight design, the Prandi German Style Hatchet is easy to carry and maneuver. It is suitable for various outdoor activities such as camping, hiking, and bushcraft, as well as woodworking projects in the workshop.
The hatchet also comes with a protective sheath, ensuring safe storage and transportation. The sheath is designed to securely hold the hatchet, preventing accidental cuts and damage.
Whether you're a seasoned outdoorsman, a woodworking enthusiast, or someone who appreciates quality tools, the Prandi German Style Hatchet is a reliable and versatile choice. Its combination of traditional design, superior craftsmanship, and functionality makes it a valuable addition to your tool collection.