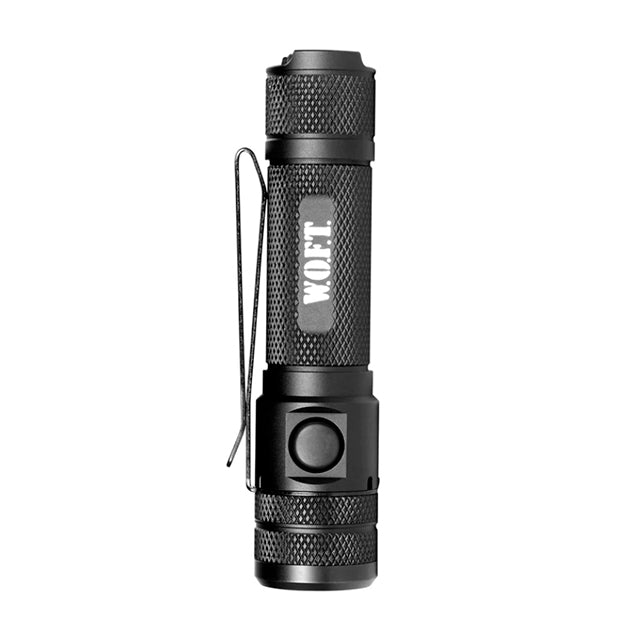 PowerTac WOFT 1200 Lumen Self Defense EDC Light | Compact Pocket Flashlight
Original price
$129.95
-
Original price
$129.95
The Powertac WOFT Subcompact Self-Defense EDC Light is a powerhouse of compact illumination designed in collaboration with WOFT, a renowned personal safety and scenario-based training facility in the US. Measuring just 4 3/8 inches in length, this pocket-sized light packs an impressive punch of 1,200 lumens using a single rechargeable 14500 battery. Crafted for quick access and self-defense scenarios, the WOFT light features an easy-to-engage strobe function that can be activated without shifting your grip. Its bidirectional clip ensures deep carry, and it can even be secured to the brim of a hat, keeping your hands free.
Featuring three interchangeable bezels—smoothed, scalloped, and aggressive—this versatile EDC light can be customized to match your specific needs. Whether you're looking for a personal safety tool or a reliable companion for daily use, the Powertac WOFT Subcompact EDC Light delivers exceptional performance in a compact package.
ADDITIONAL FEATURES:
Intuitive user interface
Six adjustable settings, including five brightness levels and a strobe function
Deep-carry bidirectional pocket clip
Brim of hat clip compatibility
Auto memorization of all settings
Incorporates digital circuit-control technology for optimal performance and extended runtime
Built-in reverse polarity protection to prevent improper battery installation
Advanced heat sink design preserves LED and electronic components by facilitating rapid heat dispersion
Precision O-ring sealed design offers water resistance for reliable use in challenging conditions
Constructed from aircraft grade aluminum with a durable Type III anodized finish
Tempered glass lens resists impact, scratching, and breaking
Double coated glass lens enhances maximum OTF (Out The Front) brightness and beam distance
IPX8 waterproof rating allows submersion up to 2 meters underwater
Backed by a Lifetime Warranty
Explore the WOFT community at WOFT.com and discover the power of preparedness and personal safety.
PACKAGE INCLUDES:
WOFT Flashlight
14500 Rechargeable Battery
Interchangeable smoothed, scalloped
& aggressive bezel
Magnetic USB Charge Cable

Spare O-Rings
Lanyard
Instruction Manual

SPECIFICATIONS
LED Type: Osram P9
Battery:(1) 14500 Rechargeable Li-ion
Length: 108.6mm
Bezel Diameter: 25.4mm
Body Diameter: 21.5mm
Weight: 74g (without battery)
ILLUMINATION / RUNTIME
 
Firefly
Low
Medium
High
Turbo
Strobe

14500

LI-ION

.41 lmns

3.4 days

19 lmns

9.69 hrs

140 lmns

3.68 hrs

600 lmns

47 mins

1,200 lmns

43 mins

1,200 lmns

1.18 hrs