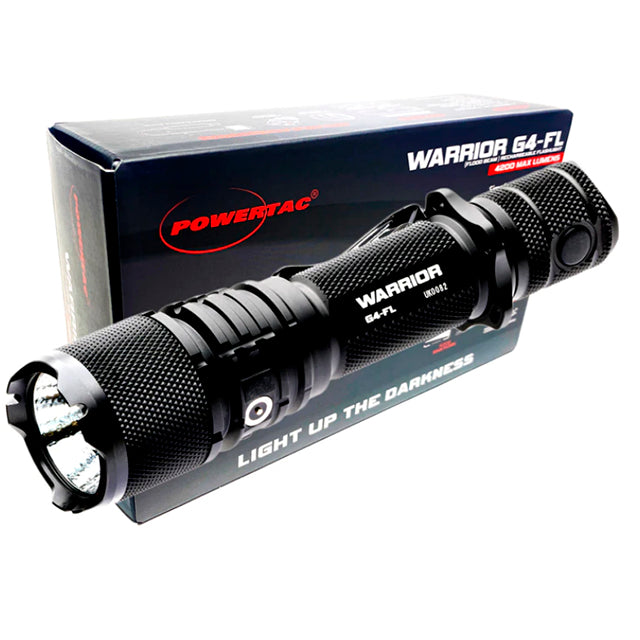 PowerTac Warrior G4-FL Tactical Flashlight | 4200 Lumen Flood Light Duty Light
Original price
$149.95
-
Original price
$149.95
Introducing the Powertac Warrior G4-FL Tactical Flashlight, a powerhouse of illumination designed for professionals in law enforcement, military, and security fields. With a remarkable 4,200 lumen maximum output and an impressive 214-meter throw, this flashlight is a beacon of reliability and performance. Crafted as the ultimate tool for those who demand the best, the Warrior G4-FL is packed with advanced features to ensure optimal functionality and versatility.
Key Features:
4,200 Lumen Max Output: Illuminate even the darkest corners with confidence, thanks to the Warrior G4-FL's immense brightness.
Wide Beam for Situational Awareness: The wide-angle flood light is perfect for law enforcement, security, and tactical operations, offering maximum visibility across various scenarios.
Instant Strobe Feature: Access the strobe function quickly for unexpected self-defense situations.
Dual Tail Switches: One-hand operation is made easy with the large tail switch for on/off and the smaller side switch for adjusting brightness.
Rechargeable with Type-C Charging: Stay powered up effortlessly with the included rechargeable 18650 Li-ion battery and convenient Type-C charging port.
Weapon Mountable: Equip the Warrior G4-FL for professional use with an optional remote pressure switch and weapon mounting.
Durable Design: Crafted from aircraft-grade aluminum with aggressive knurling for a secure grip, ensuring performance in various conditions.
IPX8 Waterproof: Withstand harsh environments and water submersion up to 2 meters for dependable use.
5-Year Warranty: Enjoy peace of mind knowing your investment is backed by our commitment to quality.
Designed to excel in various roles, the Warrior G4-FL boasts a dual charging system. Utilize the magnetic charging port or the waterproof micro-USB port for versatile charging options, whether in the field or at basecamp. The compact size and non-aggressive knurling allow for easy pocket carrying and comfortable handling, making it an ideal choice for everyday carry (EDC) enthusiasts.
Whether you're patrolling the streets, navigating the great outdoors, or seeking reliable illumination, the Powertac Warrior G4-FL stands ready to deliver uncompromising performance. Equip yourself with a tactical masterpiece that offers unmatched brightness, durability, and functionality. Choose the Warrior G4-FL and experience a new level of lighting excellence.