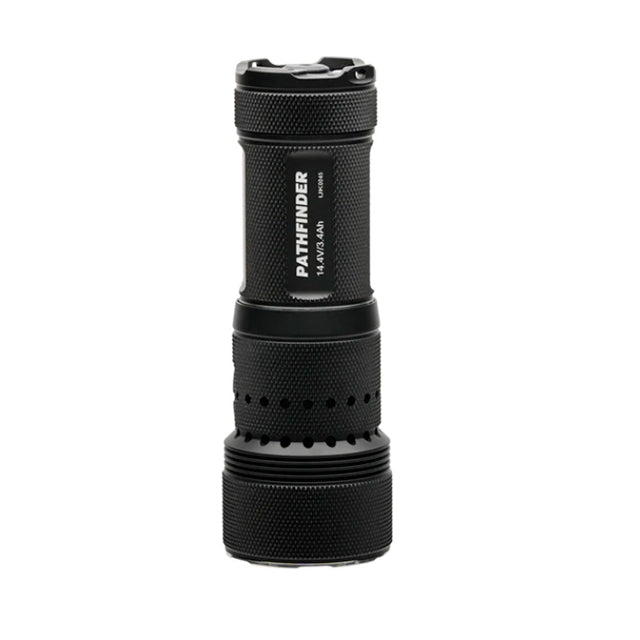 PowerTac Pathfinder 12,000 Lumen Flood Light with Color Array: Ultimate Illumination for Search & Rescue and Hunting
Original price
$499.95
-
Original price
$499.95
Introducing the Powertac Pathfinder, the pinnacle of ultra-high performance rechargeable flashlights. With an astonishing output of over 12,000 lumens and an impressive range of 468 meters, the Pathfinder stands as a beacon of unrivaled illumination. What sets it apart is its innovative cooling fan technology, allowing it to maintain its highest output without succumbing to overheating.
Experience Versatility in Lighting: The Pathfinder offers a spectrum of lighting options with its red, green, blue, and white floodlight settings, providing adaptable solutions for various scenarios in the field. Law enforcement personnel benefit from the red/blue police strobe mode designed specifically for their needs.
Power and Functionality Combined: Equipped with a circuit-protected lithium-ion battery pack, the Pathfinder does more than just illuminate. It transforms into a mobile power bank, capable of charging your cellphone up to four times, ensuring you stay connected in the most challenging situations.
Designed for the Demanding: Crafted for search and rescue missions and catering to hunting enthusiasts, the Pathfinder boasts an array of features that cater to the most demanding tasks. Its capabilities are further enhanced with the included holster for convenient carry, a 120V wall charger for rapid recharging, and a spare O-ring for maintenance.
Enhanced Protection: The Pathfinder arrives in a brand-new air-tight and water-tight case, ensuring that your investment remains safeguarded against the elements. With this comprehensive package, the Powertac Pathfinder stands ready to lead the way with its unmatched performance, versatility, and durability.
ILLUMINATION / RUNTIME
 
Low
Medium
High
Strobe
S.O.S.
WHITE 

680 lmns

9.55 hrs


4, 350mns

1.53 hrs

12,000 lmns

1.1 hrs

12,000 lmns

2.2 hrs

12,000 lmns

2.2 hrs

RED

 

-

 

-

 105 lmns

15 hrs

 105

30 hrs

 

-
GREEN

 

-

 

-

170 lmns

15 hrs

20 lmns

30 hrs

 

-
BLUE

 

-

 

-

170 lmns

15 hrs

20 lmns

30 hrs

 

-