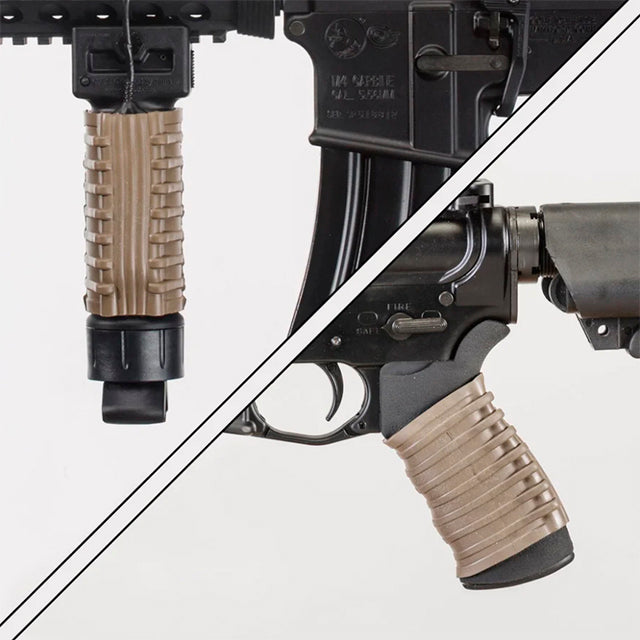 PowerTac Manta Oversize Vertical Grip Sleeve: Enhance Weapon Grip & Functionality
Original price
$19.95
-
Original price
$19.95
Introducing the MANTA Vertical/Pistol Grip Sleeve: a groundbreaking accessory designed to revolutionize your weapon's handling. This versatile sleeve is engineered to fit seamlessly over larger vertical grips like the Grip Pod, instantly enhancing your grip's tactile feel. It's also compatible with most pistol grips, providing an exceptional grip experience.
The MANTA Grip Sleeve doesn't just stop at grip enhancement; it's a multifunctional addition to your weapon. You can create a recoil buffer by attaching the Micro Pocket to the rear when mounting it on a pistol grip, reducing recoil impact. Plus, you can easily integrate momentary activation pressure pads into the vertical grip, thanks to MANTA Micro Pocket technology. No more struggling with bicycle inner tubes, zip ties, or tape to secure a switch to the grip. The Grip Sleeve even includes a switch protection channel to prevent accidental engagement.
Crafted from revolutionary materials, the Grip Sleeve stretches and conforms to most larger size (1.25" ID) vertical grips and pistol grips. If you're using a smaller vertical grip, explore our M107X series of Vertical Grip Sleeves with a 1.0" ID.
Join militaries worldwide in adopting this standard-issue accessory and experience the difference in grip performance. Elevate your weapon handling with the MANTA Vertical/Pistol Grip Sleeve today.