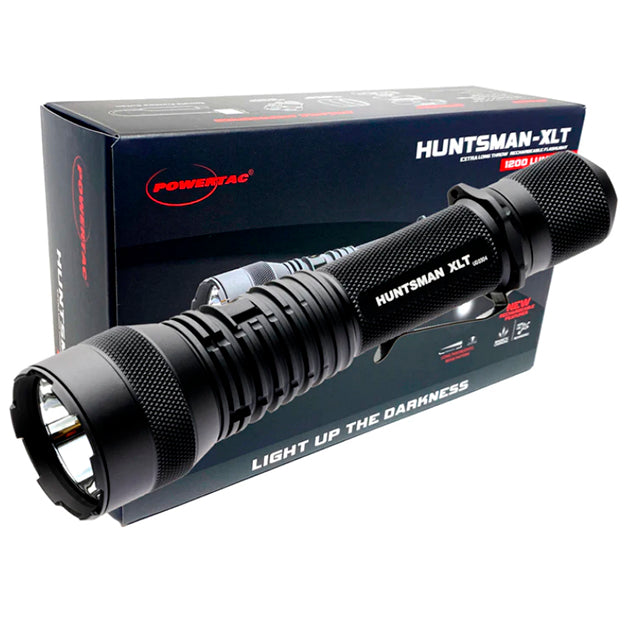 PowerTac Huntsman XLT: 1200 Lumen Extra Long Throw Flashlight for Professionals and Enthusiasts
Original price
$169.95
-
Original price
$169.95
Introducing the Powertac Huntsman-XLT: Your Ultimate Long-Throw Flashlight Solution
Discover unrivaled reliability and illumination with the Powertac Huntsman-XLT, a true powerhouse designed to meet the demands of professionals, adventurers, and enthusiasts alike. Boasting a remarkable 1,200 max lumen output and an extraordinary 1,000 meter throw distance, this flashlight is your trusted companion for precision lighting across vast distances.
Professional-Grade Power for Any Situation Engineered with meticulous attention to detail, the Huntsman-XLT is tailored for law enforcement, security professionals, and hunting enthusiasts seeking optimal performance. With six specialized light modes, you can effortlessly adjust the intensity to suit your needs, from tactical operations to outdoor exploration.
Dependable and Innovative Charging Never be caught in the dark with the Huntsman-XLT's advanced charging options. Equipped with a magnetic or USB charging port, this flashlight can be conveniently recharged, ensuring that you're always ready for action. The included 21700 5,000mAh battery, combined with the unique aggressive knurling design, ensures a firm grip and rugged durability in any environment.
Extended Battery Life and Versatility Experience flexibility like never before with the Huntsman-XLT's tri-fuel battery compatibility. Utilize the included 21700 battery, switch to an 18650 High Discharge Li-ion battery, or opt for two CR123As, providing extended runtime wherever you go. Thanks to the innovative dual magnetic/micro-USB charging port, you can recharge effortlessly without removing the battery. Enjoy up to 3 hours of max output runtime or an impressive 20 days in the lowest power mode, depending on your battery choice.
Designed to Excel in Every Way The Huntsman-XLT isn't just powerful—it's built to last. Crafted from aircraft-grade aluminum with a Type III anodized finish, it can withstand impact and resist harsh conditions. Its IPX8 waterproof rating guarantees reliability even in the most challenging environments. The crenelated bezel enhances self-defense capability, while the anti-slip knurling ensures a secure grip, enabling confident use in any situation.
Unlock the Huntsman-XLT Advantage Experience the pinnacle of long-throw flashlight technology with the Powertac Huntsman-XLT. Engineered for excellence, this flashlight offers unmatched performance, durability, and versatility. With an instant strobe feature, quiet activation switch, and a lifetime warranty, the Huntsman-XLT is your ultimate lighting companion for a lifetime of adventure.
[Include the Huntsman-XLT product image here]
Key Features:
1,200 Max Lumen Output
1,000 Meter Extra-Long Light Throw Distance
Tri-Fuel Battery Compatibility (21700, 18650, CR123A)
Magnetic and USB Charging
Six Specialized Light Modes
Rugged Design, IPX8 Waterproof
Lifetime Warranty
Elevate your illumination experience with the Powertac Huntsman-XLT—a beacon of strength, endurance, and reliability for those who demand the best.
SPECIFICATIONS:
Battery: One (1x) 21700 5000 mAh Rechargeable Li-ion (included).

Compatible with 18650 High Discharge Li-ion and 2 CR123A batteries with spacer (not included).
(NOT compatible with RCR123A / 16340)

Size:

Length:186 mm
Bezel Diameter: 45mm
Body Diameter: 26.5mm

Weight: 206g (without battery)
 PACKAGE INCLUDES:
Huntsman-XLT Flashlight

21700-5000 mAh Battery

Nylon Holster

USB Magnetic Cable

Spare O-Rings

Retaining Ring

Lanyard

Instruction Manual

ILLUMINATION / RUNTIME
 
Firefly
Low
Medium
High
Turbo
Strobe
21700 (5000 mAh)

7 lmns

20 days

60 lmns

24.6 hrs

260 lmns

5.5 hrs

690 lmns

3.2 hrs

1.200 lmns

3 hrs

1.200 lmns

4.5 hrs