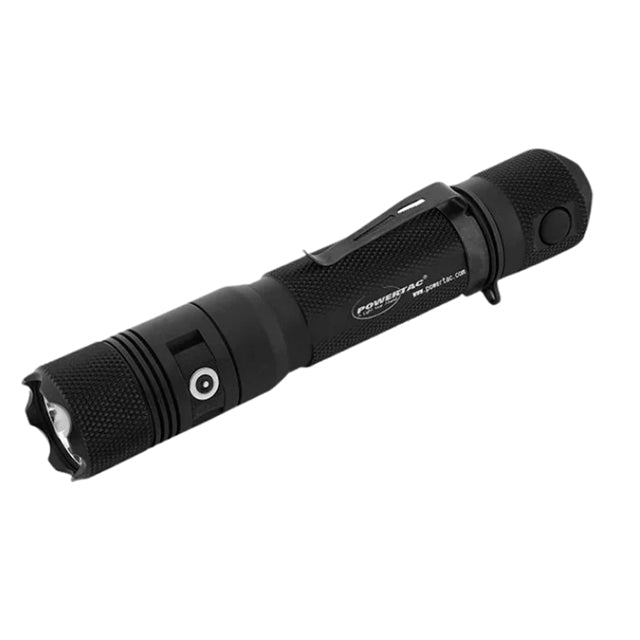 PowerTac Huntsman-LT: 1500 Lumen Long Throw Flashlight with Quiet Switch and Lifetime Warranty
Original price
$159.95
-
Original price
$159.95
Experience ultimate illumination with the Powertac Huntsman-LT, a powerhouse of a flashlight designed to exceed your expectations. With a remarkable 1,500 lumen max output and an impressive 580-meter long throw, this flashlight offers unparalleled visibility for outdoor adventures, hunting trips, tactical situations, and more.
Crafted with precision, the Huntsman-LT features a quiet "no click" tail switch, ensuring stealthy use during hunting or tactical operations. Its 21700 5,000 mAh battery provides extended runtime, giving you the confidence to take on any challenge. With the added convenience of an instant strobe button, you're always prepared for unexpected situations.
This flashlight's rugged build doesn't compromise on elegance. Machined from aero-grade aluminum alloy with a Type III hard anodized finish, the Huntsman-LT is built to withstand the toughest conditions. It boasts an impact-resistant design, surviving drops of up to 2 meters, and holds an IPX8 waterproof standard rating for submersion up to 2 meters underwater.
The Huntsman-LT's versatile design adapts to your needs. Equipped with dual tail switches, it offers both momentary and continuous modes, and an integrated side switch grants quick access to various lighting modes. Its 6 settings include 5 brightness levels and a strobe feature, all with auto memorization for convenience.
With advanced digital circuit-control technology, the Huntsman-LT delivers optimal performance and runtime. The flashlight's tempered glass and double-coated lens maximize brightness and beam distance, while the crenelated bezel adds a layer of self-defense capability.
Say goodbye to battery worries – the Huntsman-LT runs on a rechargeable 21700 Li-ion battery and features cutting-edge magnetic USB charging. Whether you're out in the wild or on duty, this flashlight offers a reliable and enduring light source.
Illuminate your path confidently with the Powertac Huntsman-LT. This flashlight is more than just a tool – it's a companion for your adventures, equipped with the power, durability, and lifetime warranty to back you up every step of the way.