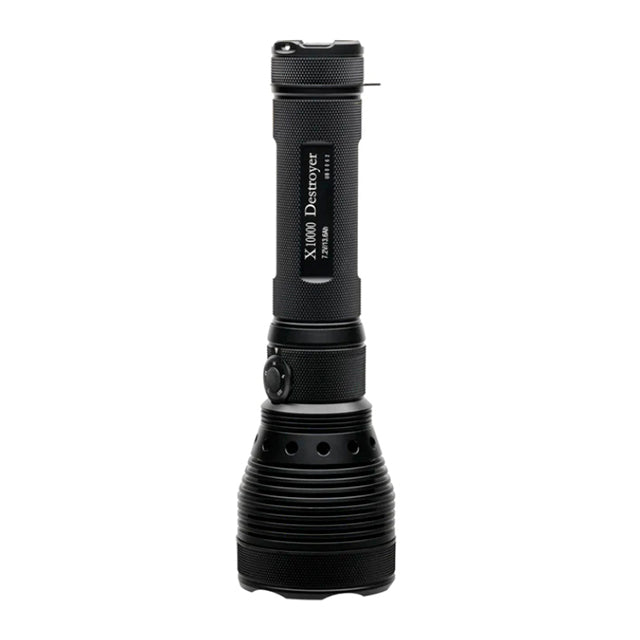 PowerTac DESTROYER-X10K-G2: Unleash 9,500 Lumens Brilliance for Search & Rescue
Original price
$799.95
-
Original price
$799.95
Unveil the pinnacle of portable search and rescue lights with the Powertac Destroyer G2. This exceptional flashlight is meticulously engineered to deliver professional-grade illumination, making it a vital tool for first responders, search and rescue teams, explorers, and more.
Key Features:
9,500 Lumens Brilliance: Experience unmatched brightness with the power of 9,500 lumens, ensuring exceptional visibility even in the darkest conditions.
1400-Meter Throw: Achieve an incredible 1,400-meter throw distance, making it a sniper-like pinpointing tool.
Perfect Balance: Benefit from the ideal blend of throw and flood, ensuring optimal coverage and brightness.
Internal Cooling Fan: Advanced internal cooling fan and heat dissipation design ensure a long runtime and consistent performance.
Sealed Battery Power Bank: The rechargeable circuit-protected lithium-ion battery pack also serves as a power bank for up to 8 cell phone recharges.
Simple User Interface: Easily switch between 5 distinct illumination settings, including strobe and SOS, using the intuitive circular rotary ring.
Thermal Management Design: Innovative thermal management design with built-in cooling fan and Type III anodized aluminum body for efficient heat dispersion.
Versatile Application: Suitable for professionals and enthusiasts alike, including search and rescue teams, law enforcement, and outdoor enthusiasts.
Professional-Grade Illumination:
The Powertac X10k Destroyer delivers professional-grade illumination with its remarkable 9,500 lumens. It's as simple as pressing the side button to turn on/off and using the rotary ring to choose from 5 illumination settings (low, medium, high, strobe, and SOS). Built with a Type III anodized aluminum body, this flashlight efficiently dissipates heat and maintains its reliability over time.
Balanced Throw & Flood:
Experience the perfect equilibrium of throw and flood. The 1400-meter throw distance ensures precision, while the wide swath of light provides unparalleled peripheral visibility.
Simple & Versatile:
The X10k Destroyer boasts an easy-to-use design. The side button activates the light, while the rotary ring enables effortless switching between illumination settings. Moreover, its sealed battery pack doubles as a power bank, allowing you to charge multiple devices on the go.
Ideal for Professionals & Enthusiasts:
From security professionals to hunters and explorers, the X10k Destroyer is the go-to flashlight. Its robust construction, extended battery life, and exceptional illumination make it a reliable companion for various tasks.
Illuminate your work, adventures, and goals with the Powertac X10k Destroyer - your ultimate partner in brightness and reliability.
Additional Features:
6 illumination settings, including strobe
High-quality shoulder strap included
Auto memorization for all settings
Digital circuit-control technology for maximum performance
Water-resistant design with O-ring seals
Anti-slip knurling and matte style finish for a firm grip
Magnetic charging capability
Tempered glass to resist impact and scratches
Double coated glass lens for maximum brightness
IPX waterproof submersible up to 1 meter
Backed by a Lifetime Warranty
Unleash the brilliance of the Powertac Destroyer G2 - your trusted source of light, wherever you go.


SPECIFICATIONS
LED type: CREE XHP70 and CREE XM-L2 U2 white LED
Indicator switch for power on / off
Rotary switch for adjusting brightness levels / functions
Battery pack: 7.2V 13600mAh Rechargeable Battery Pack (disassembly of battery pack will void lifetime warranty)
Length: 307 mm. Bezel diameter: 90.00 mm. Body diameter: 50.00 mm. Tailcap diameter: 50.00 mm
Weight: 3.75 lbs. (not including the shoulder strap and AC charger)
Maximum output power up to 90W
PACKAGE INCLUDES:

Destroyer-G2 Flashlight
7.2V 13600mAh Rechargeable Battery Pack
Wall Charger
Spare O-Rings
Shoulder Strap
Instruction Manual
Waterproof Storage Case
Illumination / Runtime
Low
Medium
High
Strobe
S.O.S

950 lmns

12.3 hrs

4,200 lmns

2.5 hrs

9,500 lmns

1.4 hrs

9,500 lmns

2.6 hrs

9,500 lmns

2.5 hrs