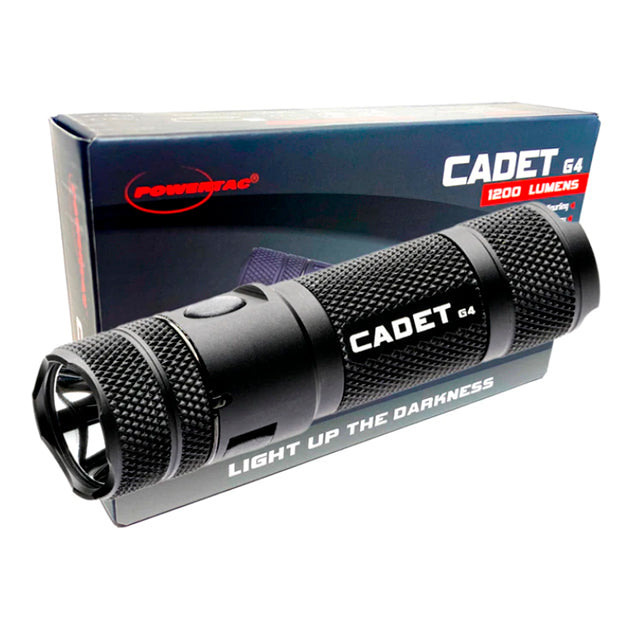 PowerTac Cadet-G4: Rechargeable Subcompact Tactical Flashlight - Powerful 1200 Lumens and Versatile Performance
Original price
$69.99
-
Original price
$69.99
Discover the Powertac Cadet Gen4: a subcompact tactical and EDC flashlight designed for exceptional performance and versatile carry. With a powerful 1200 lumens and an impressive 240-meter throw, this pocket-sized powerhouse ensures you're never left in the dark.
At just 3.57 inches in length, the Cadet Gen4 offers an ideal EDC size without compromising on illumination. Powered by a single RCR123 rechargeable battery, its bidirectional clip allows for deep carry or convenient attachment to the brim of a hat. The compact design and high output make it perfect for both everyday carry and mounting on PDWs.
Featuring dual button operation with an instant strobe function, the Cadet Gen4 is not just about brightness; it's about versatility. Its simple user interface provides access to 6 different settings, including 5 levels of brightness and a strobe. The deep-carry bidirectional pocket clip enhances portability and can even be clipped onto a hat for hands-free illumination.
Crafted with precision, the Cadet Gen4 integrates digital circuit-control technology for maximum performance and extended runtime. The reverse polarity protection safeguards against improper battery installation, while the superior heat sink design ensures quick heat dispersion to maintain optimal performance during extended use.
With a rugged construction of aircraft-grade aluminum and a type III anodized finish, the Cadet Gen4 is engineered to endure. Its tempered glass and double-coated lens resist breaking and scratching, guaranteeing maximum OTF (Out The Front) brightness and beam distance.
Rain or shine, the Cadet Gen4 is ready. With an IPX7 waterproof rating, it's submersible up to 1.5 meters underwater, ensuring reliable performance even in extreme conditions. And with the Powertac Lifetime Warranty, your investment is protected.
Package Includes:
Cadet Gen4 Flashlight
RCR123A Battery
Magnetic USB Charge Cable
Spare O-Rings
Lanyard
Instruction Manual
Experience the power of the Powertac Cadet Gen4 - a subcompact flashlight that's big on performance, versatility, and reliability. Whether you're navigating daily life or embarking on tactical missions, the Cadet Gen4 is your compact companion.