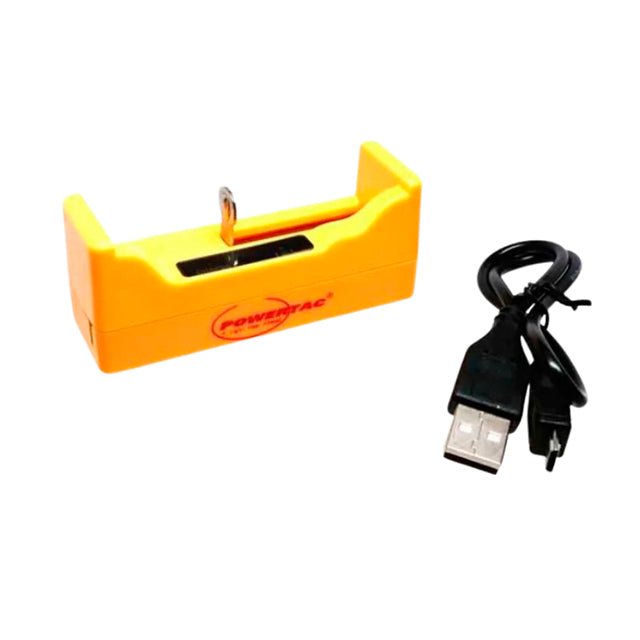 PowerTac 18650 Battery Charger - Single Bay USB Charging for Li-ion Batteries
Original price
$21.50
-
Original price
$21.50
Introducing our versatile USB Backup Power Charger, a must-have accessory for all your electronic devices. This compact charger not only charges your devices but also provides extra backup power, ensuring you stay connected on the go. Whether you're using an iPhone, Android, tablet, MP3 player, GPS unit, or any other USB-charging device, our charger has you covered.
With the ability to charge rechargeable Li-ion batteries like 18650, 18500, RCR123A, as well as Mi-MH AAA and AA batteries, our charger offers versatility that suits various power needs. It's like having multiple batteries at your disposal, giving you virtually unlimited backup power whenever you need it.
The charger features a convenient charge port on-board, allowing you to recharge your backup batteries from a USB port without the hassle of carrying a separate charger. With an input range of 5-12V DC and an output of 4.2V/1.5V 1A DC, you can rely on our charger to provide efficient and reliable charging for your devices.
Stay prepared and connected with our USB Backup Power Charger. Whether you're out on a road trip, camping adventure, or just navigating your daily routine, this charger ensures that you have a reliable power source for all your devices. Don't let low battery anxiety hold you back—empower yourself with the convenience and peace of mind our charger offers.
Specifications:
Will charge rechargeable Li-ion 18650, 18500 batteries.
Input: 5-12V DC
Output: 4.2V/1.5V 1A DC
Discharge: 5V/1A