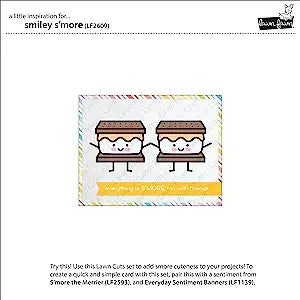 Lawn Cuts Custom Craft Die-Smiley S'more -LF2609
Sold out
Original price
$12.88
-
Original price
$12.88
Create delightful and whimsical crafting projects with the Lawn Cuts Custom Craft Die - Smiley S'more (LF2609). This high-quality die is designed to bring a touch of fun and creativity to your paper crafts.
Featuring a cheerful smiling s'more character, this die allows you to easily cut out precise and intricate shapes. The die is made from durable steel, ensuring sharp and clean cuts every time. Simply pair it with your favorite manual die-cutting machine and your choice of paper or cardstock to effortlessly create adorable s'more shapes for your projects.
The Smiley S'more die is perfect for a variety of paper crafting applications. Use it to embellish greeting cards, scrapbook pages, journals, and more. Add a playful touch to party decorations, gift tags, and invitations. You can even use it for educational purposes, creating interactive elements for teaching and learning activities.
The possibilities are endless with this charming Smiley S'more die. Let your imagination run wild and enjoy the process of crafting with this versatile tool. Whether you're a seasoned crafter or just starting out, this die is sure to bring a smile to your face and add a delightful touch to your projects.
Please note that this is the die only, and it requires a compatible die-cutting machine to be used effectively. Let your creativity shine with the Lawn Cuts Custom Craft Die - Smiley S'more and bring a dose of happiness to your crafting endeavors.