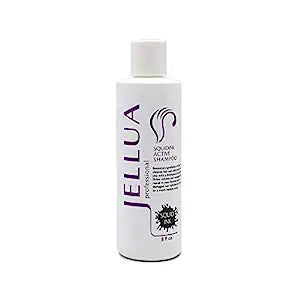 Jellua Squid Ink Active Shampoo 8.0 oz
Sold out
Original price
$24.99
-
Original price
$24.99
Experience the power of Jellua Squid Ink Active Shampoo, the ultimate solution for healthy and vibrant hair. This unique shampoo is infused with the natural goodness of squid ink, delivering exceptional benefits for all hair types.
Jellua Squid Ink Active Shampoo combines advanced hair care technology with the nourishing properties of squid ink extract. It deeply cleanses the hair and scalp, removing impurities, excess oil, and product buildup, while maintaining the natural moisture balance.
With its revitalizing formula, this shampoo promotes hair strength, elasticity, and shine. It helps to repair damaged hair, reduce breakage, and improve overall hair health. Whether you have dry, damaged, or dull hair, Jellua Squid Ink Active Shampoo will bring life back to your locks.
The active ingredients in squid ink are rich in essential nutrients, vitamins, and minerals that provide deep nourishment to your hair follicles. This promotes healthy hair growth and prevents hair loss, giving you thicker, fuller-looking hair.
Say goodbye to frizz and hello to silky-smooth strands. Jellua Squid Ink Active Shampoo tames unruly hair, controls frizz, and enhances manageability, leaving your hair feeling soft, smooth, and beautifully radiant.
Suitable for daily use, this shampoo is gentle on your hair and scalp. It lathers richly and rinses away easily, leaving behind a refreshing and invigorating scent.
Discover the secret to luscious, healthy hair with Jellua Squid Ink Active Shampoo. Elevate your hair care routine and indulge in the nourishing benefits of squid ink extract. Transform your hair into a head-turning masterpiece with Jellua Squid Ink Active Shampoo.