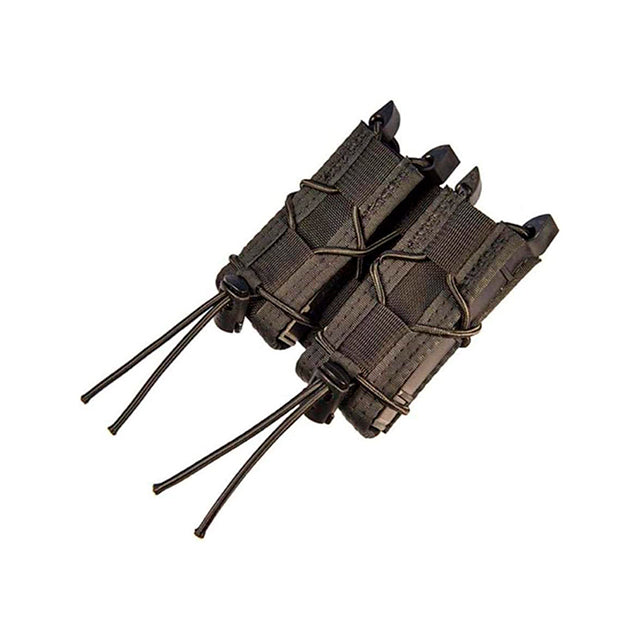 High Speed Gear - Double Pistol Taco Magazine Pouch for Rapid Response, Black
Original price
$53.00
-
Original price
$53.00
100% Nylon

RAPID RESPONSE – For quick and decisive actions, there is no product better than the High Speed Gear TACO line. Without using loud and obnoxious velcro straps, the TACO pouches securely holds your magazine or hardware in place, and is fully adjustable to fit a variety of magazines or tools. With no extra tabs to pull or remove your reload actions are faster and simplified.

UNIVERSAL – The HSG Pistol TACO is designed to hold almost any pistol magazine. Single or double stack makes no difference. The polymer design is adjustable with the bungee retention straps, allowing you to fit most pistol magazines. With the open top design, you can increase your reload capabilities and speed.

MULTI-FUNCTION – Capable of holding more than just pistol magazines, the HSG Pistol Taco can also hold a variety of multi-tools, knives, and smaller flashlights. Adjustable tension allows you to securely hold your accessories of choice, while maintaining the rapid response ability High Speed Gear products are known for.

MODULAR DESIGN – Capable of being mounted onto a duty belt, shooters belt, or MOLLE systems, the pistol TACO easily fits into your tactical loadout. Proprietary MOLLE clips make for easy addition to a tactical vest or belt, and also functions as a belt loop if necessary. At only 2.25" L x 1.5" W x 4" H, a double pistol taco easily fits on most loadouts.

MADE IN USA – Every High Speed Gear product is 100% made in the USA, and is backed by a lifetime warranty. Made with the highest quality materials and with a rigorous testing process, every High Speed Gear product is meant to outperform and outlast any competitor product.