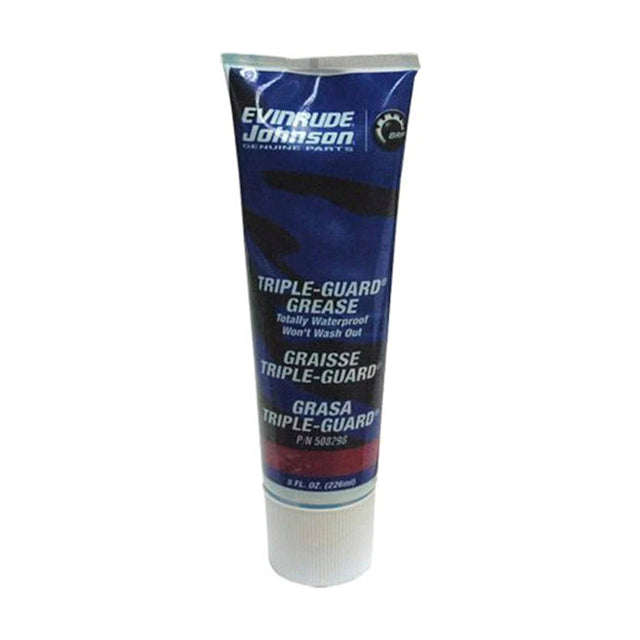 Evinrude 508298 Triple Guard 8 oz. Tube
Original price
$16.80
-
Original price
$16.80
Introducing the Evinrude 508298 Triple Guard, the ultimate protection for your marine engine. This 8 oz. tube of Triple Guard is specially formulated to provide superior lubrication and safeguard against wear, corrosion, and carbon buildup.
With its advanced formula, Triple Guard extends the life of your engine components, ensuring optimal performance and reliability. It creates a protective barrier that reduces friction, minimizes heat, and enhances fuel efficiency. Whether you have an Evinrude outboard motor or any other marine engine, Triple Guard is designed to deliver exceptional results.
One of the key features of Triple Guard is its ability to combat corrosion. It effectively shields vital engine parts from the harmful effects of saltwater, moisture, and other corrosive elements, preventing damage and maintaining the longevity of your engine.
Additionally, Triple Guard helps prevent carbon deposits, which can hinder engine performance and fuel economy. By keeping your engine clean and free from carbon buildup, it ensures smooth operation and maximizes power output.
The convenient 8 oz. tube makes application easy and allows for precise dosage. Whether you're performing routine maintenance or preparing for extended storage, Triple Guard is your go-to solution for engine protection.
Choose the Evinrude 508298 Triple Guard for unbeatable performance and peace of mind. Trust in its proven reliability and advanced formula to keep your marine engine running at its best. Don't compromise on the protection of your valuable investment—get the Triple Guard advantage today.