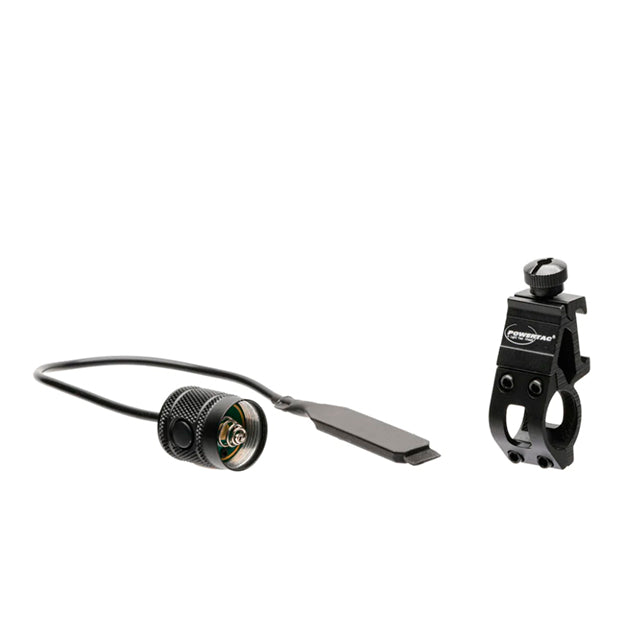 PowerTac E9R-G4 Tactical Package: Pressure Switch & Picatinny Mount Kit
Original price
$39.95
-
Original price
$39.95
Enhance your Powertac E9RG4 flashlight's tactical capabilities with the PowerTac Remote Pressure Switch and Picatinny Rail Mount Kit. This kit is designed specifically for the Powertac E9RG4 flashlight (flashlight not included) and is ideal for long guns such as rifles and shotguns, providing you with quick and convenient control over your flashlight's modes.
The PowerTac Remote Pressure Switch is a MOMENTARY switch that allows you to activate the E9RG4 flashlight in any mode it's been set to. Whether you need a momentary burst of intense light or steady illumination, this switch has you covered.
Included in this kit is the picatinny rail weapon mount, which securely attaches to your firearm and ensures your flashlight stays in position, even during rapid movements or recoil. It's a solid combination when used together, providing you with a reliable setup for various tactical situations.
The pressure switch is designed to fit into the integrated pressure switch pocket of a foregrip, offering easy access and control. Additionally, it can be attached with hook and loop fasteners (not supplied) to any weapon that doesn't have an integrated pressure switch pocket, making it a versatile accessory.
Upgrade your tactical gear with this PowerTac Remote Pressure Switch and Picatinny Rail Mount Kit, and take full control of your Powertac E9RG4 flashlight's performance in high-pressure situations. Please note that the flashlight itself is not included in this kit.