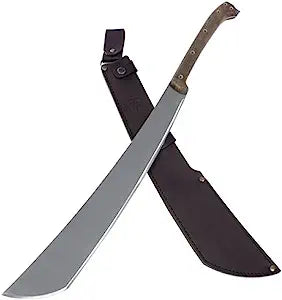 Condor Tool & Knife, Makara Machete
Original price
$120.00
-
Original price
$120.00
The Condor Tool & Knife Makara Machete is a reliable and versatile tool designed for outdoor enthusiasts and survivalists. Crafted with quality and durability in mind, this machete offers a range of features that make it an essential companion for your outdoor adventures.
With a blade length of [insert specific blade length], the Makara Machete is capable of handling a variety of tasks. The blade is made from high-quality carbon steel, known for its strength and edge retention. It is designed to withstand rugged use and excel in cutting, chopping, and clearing vegetation with ease.
The ergonomic handle of the Makara Machete provides a comfortable and secure grip, allowing for extended periods of use without fatigue. The handle is crafted from [insert material], which offers both durability and excellent grip even in wet or challenging conditions.
The machete also features a full tang construction, ensuring optimal strength and stability. This design enhances the overall durability and reliability of the tool, making it suitable for heavy-duty tasks and demanding environments.
The Makara Machete comes with a durable and functional sheath, allowing for safe storage and easy carrying. The sheath is designed to securely hold the machete while providing quick and convenient access when needed.
Whether you're camping, hiking, clearing trails, or engaging in survival situations, the Condor Tool & Knife Makara Machete is a dependable tool that can handle a wide range of outdoor tasks. Its quality craftsmanship, ergonomic design, and durability make it an excellent choice for those seeking a reliable and versatile machete.