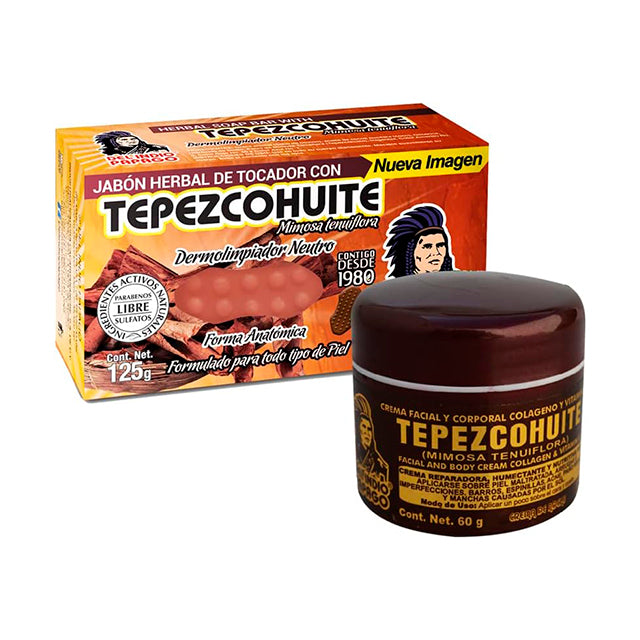 Bundle DEL INDIO PAPAGO Tepezcohuite Night Facial Cream 60 gr / 2.02 Fl Oz + Neutral soap with Tepezcohuite 125 gr - Mexican Beauty - For All Skin Types - Nourishes - Softens - Paraben Free
Original price
$17.99
-
Original price
$17.99
Del Indio Papago Tepezcohuite Cream 2 Oz and Tepezcohuite soap 4.4 Oz Papago Tepezcohuite Mimosa tenuiflora (Jurema, Tepezcohuite) is a perennial evergreen tree or shrub native to the northeastern region of Brazil and found as far north as southern Mexico (Oaxaca and coast of Chiapas).
Tepezcohuite my protect and stimulate the generation of collagen and "elastina," as well as providing protecting flavonoids and hyaluronic acid, a building block for tissue regeneration. Tepezcohuite is used to treat acne, psoriasis.
Reduces the appearance of pigmentation imbalances, age spots, stretch marks, scars, cellulite and enlarged pores and also is :
Skin Rejuvenator

Removes all makeup, dirt, oils and grime that clog the pores

Exfoliates the skin to leave it soft and radiant, removing dead cells and dry skin

Renews fresh skin tone for a more youthful look

Minimizes wrinkles and fine age lines

Improves and heals acne leaving the skin smooth.
Instructions: Use with warm water in the morning and at night. Massage gently into the skin, the creamy dark lather will absorb into your skin as you bathe. (Do not rub in too hard, as this product is derived from NATURAL powdered bark - it may contain some coarse granules.) Wash it off with plenty of cold water, your skin will really feel the benefit ! For best results: Apply a small quantity of Tepezcohuite Pomade, after wash.