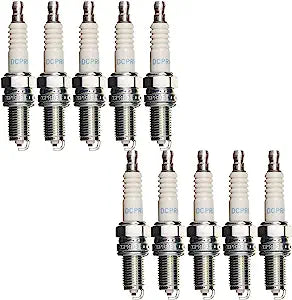 (10-Pack) NGK Spark Plugs DCPR8E (Stock # 4339)
Original price
$37.85
-
Original price
$37.85


Introducing the (10-Pack) NGK Spark Plugs DCPR8E (Stock # 4339), the perfect choice for optimal engine performance and reliability. These spark plugs are designed to meet the highest standards of quality and precision, making them a trusted choice among automotive enthusiasts and professionals.
With NGK's advanced technology and expertise, the DCPR8E spark plugs deliver consistent and efficient ignition, ensuring smooth engine operation and maximum power output. Whether you're a weekend warrior or a professional mechanic, these spark plugs provide the performance you need.
Featuring a durable construction and a copper core electrode, the NGK DCPR8E spark plugs offer excellent heat transfer and superior electrical conductivity. This means better combustion, reduced emissions, and improved fuel efficiency, resulting in a smoother and more responsive engine performance.
Installing the NGK DCPR8E spark plugs is a breeze. Their precise fit and easy installation make them compatible with a wide range of vehicles. Simply remove the old spark plugs and replace them with the NGK DCPR8E plugs to experience enhanced engine performance and reliability.
With the (10-Pack) NGK Spark Plugs DCPR8E, you can enjoy long-lasting durability and consistent ignition performance. Whether you're hitting the road or pushing the limits on the track, these spark plugs will ensure that your engine runs at its best.
Upgrade your spark plugs to the NGK DCPR8E and unleash the full potential of your engine. With their superior quality, reliability, and performance, these spark plugs are the go-to choice for automotive enthusiasts and professionals alike. Get your (10-Pack) today and experience the difference NGK spark plugs can make in your driving experience.