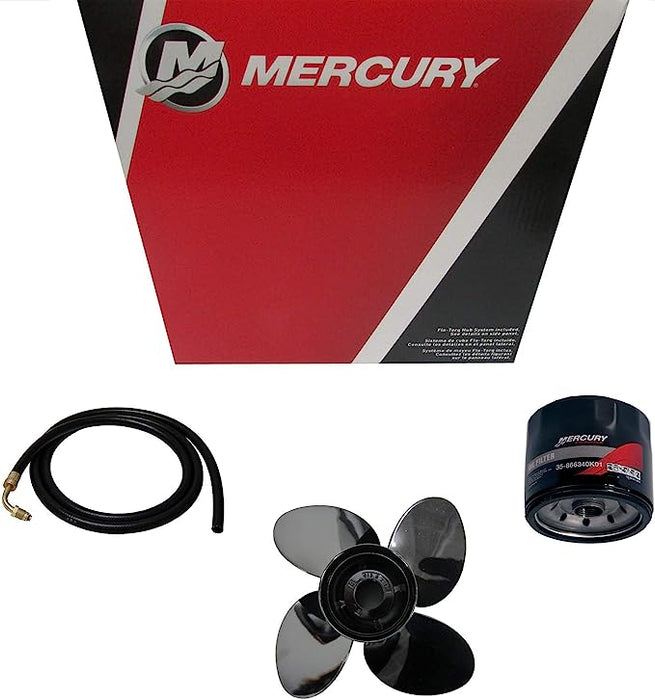 OEM Mercury 100 Hour Maintenance Kit for 150HP EFI FourStroke Outboard 8M0094232 (Kit Includes: Oil filter, Fuel filter, Lower unit gearcase drain plug seal)
Original price
$38.99
-
Original price
$38.99
Ensure optimal performance and longevity for your 150HP EFI FourStroke Outboard with the OEM Mercury 100 Hour Maintenance Kit. This comprehensive kit, part number 8M0094232, includes everything you need to keep your engine running smoothly.
First, the kit features an oil filter designed specifically for your Mercury outboard. The high-quality filter efficiently removes contaminants, ensuring clean oil circulates throughout your engine for maximum lubrication and protection.
Next, the fuel filter included in the kit ensures a clean and consistent fuel supply to your engine. It effectively filters out impurities and debris, safeguarding your fuel system from potential damage and maintaining optimal fuel flow.
Additionally, the kit includes a lower unit gearcase drain plug seal, a crucial component for preventing leaks and maintaining proper lubrication in your lower unit. This seal ensures that the gearcase remains properly sealed, protecting it from water intrusion and potential damage.
By regularly performing maintenance with this OEM Mercury kit, you can extend the life of your outboard motor and enjoy worry-free boating experiences. It's an investment in the long-term performance and reliability of your engine.
Simplify your maintenance routine and choose the OEM Mercury 100 Hour Maintenance Kit for your 150HP EFI FourStroke Outboard. Keep your engine in peak condition and enjoy countless hours of smooth operation on the water.