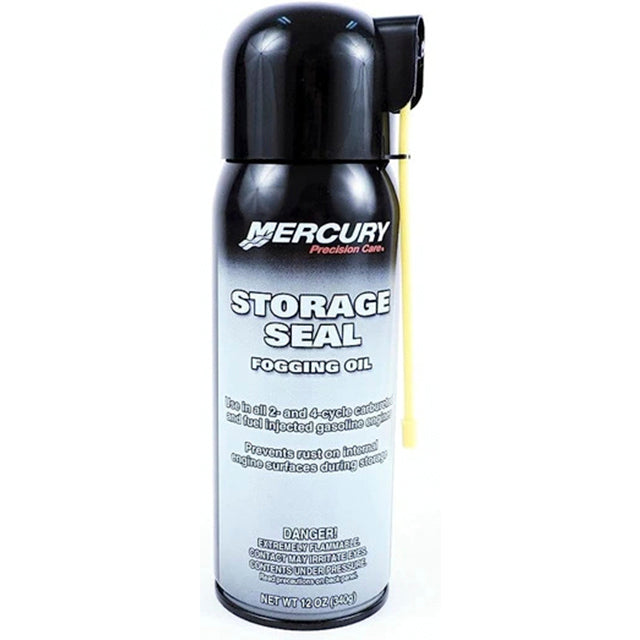 MERCURY Genuine Storage Seal 12 Oz. Fogging Oil - 858081K03
Original price
$20.29
-
Original price
$20.29
Introducing the MERCURY Genuine Storage Seal Fogging Oil - the ultimate solution for protecting your engine during storage. This 12 oz. fogging oil is specifically designed to safeguard your engine from corrosion and damage while it's not in use.
When it comes to storing your valuable engine, you want to ensure it stays in top condition. That's where the MERCURY Genuine Storage Seal Fogging Oil comes in. With its high-quality formulation, it creates a protective barrier that coats and seals vital engine components, preventing moisture and corrosion from causing harm.
The easy-to-use aerosol can allows for quick and efficient application. Simply spray the fogging oil into the engine's intake or spark plug holes, and it will disperse throughout the internal parts, providing long-lasting protection. This ensures that your engine remains in optimal condition and starts up smoothly when it's time to hit the water again.
Not only does the MERCURY Genuine Storage Seal Fogging Oil protect against corrosion, but it also helps to lubricate internal engine parts during the storage period. This additional lubrication reduces wear and tear, extending the life of your engine and ensuring it performs at its best when you're back on the water.
With its genuine MERCURY quality and reliability, you can trust this fogging oil to deliver outstanding results. It meets strict industry standards and is recommended by professionals for maintaining and preserving marine engines.
When it's time to store your engine, don't take any chances. Choose the MERCURY Genuine Storage Seal Fogging Oil for unbeatable protection and peace of mind. Safeguard your investment and keep your engine ready for action with this trusted fogging oil.